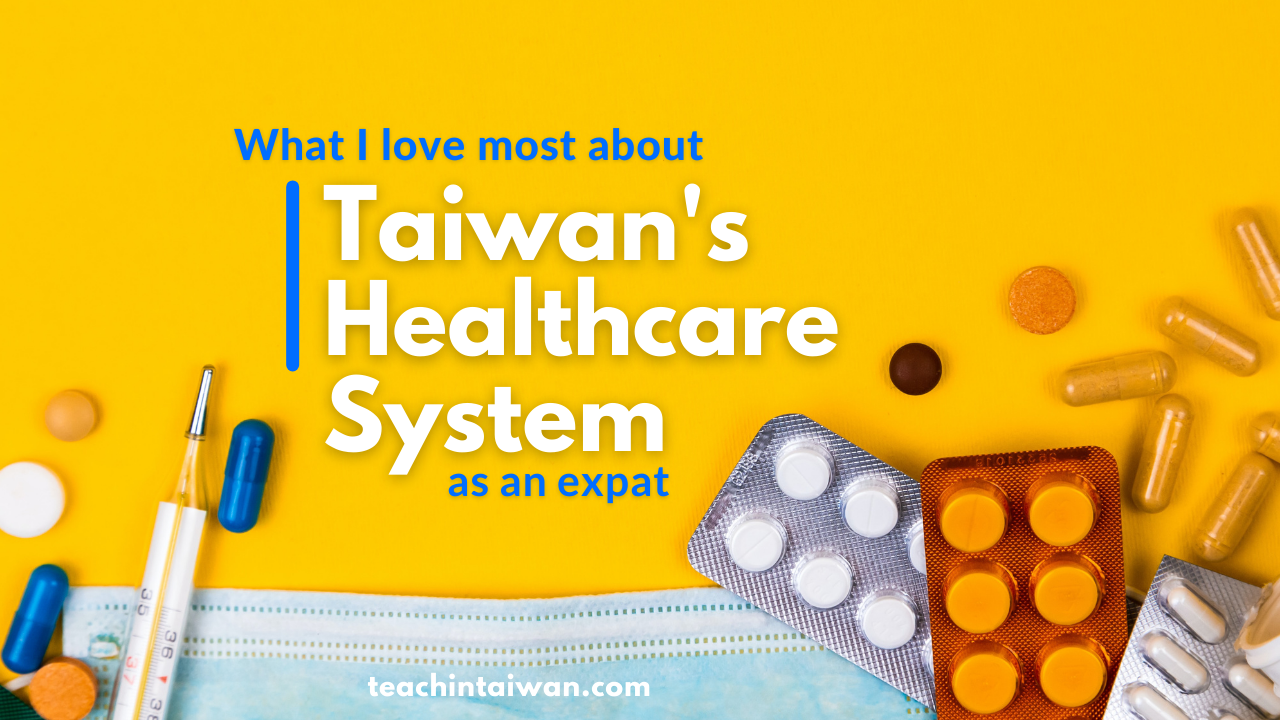 Going to see a doctor or dentist can be a nerve-wracking experience under any circumstances. Move to a new country, where you're unfamiliar with the environment and the local language, and anxieties are amplified. Personally, hospital visits of any kind have always made my stomach churn and, when I first moved overseas, it was something I earnestly prayed that, as a relatively fit and healthy young person, I would be able to avoid as much as possible.
However, live anywhere long enough, and you're sure to have medical or dental needs come up that best not go unaddressed for too long. Although I've managed to avoid serious illnesses or injuries during the years I've lived in Taiwan, I've still had my fair share of healthcare needs. With each encounter, my fears and anxieties about receiving medical treatment abroad have diminished and I've become more and more appreciative of the excellent quality, accessibility, and cost of medical services available to me here. In fact, I no longer fear visiting clinics or hospitals, but instead have peace of mind knowing that I can count on Taiwan's outstanding healthcare system when I need it.
In this article, I'm sharing what I appreciate most about the Taiwanese healthcare system - accessibility, cost, and quality of care. This is, by no means, meant to be a comprehensive explanation of how Taiwan's system works, but rather sharing my own first-hand experience with it in hopes that it'll ease the fears of those who, like me, may initially have anxieties about healthcare while living abroad, particularly in Taiwan.
National Health Insurance (NHI)
Taiwan has a compulsory universal public health care system that has gained an international reputation for its high quality and relatively low cost for citizens. Foreigners living and working in Taiwan with an ARC have access to the same National Health Insurance (NHI) benefits as Taiwanese citizens. Typically, you receive your NHI card (an electronic card carrying the health information and records of the bearer) within a week or two of applying for it, and the monthly premium is deducted from your salary by your employer. The NHI card is used across healthcare services in Taiwan.
While NHI doesn't cover everything, it covers most preventative medical services, most dental services, and most prescription drugs.
It should be noted that while nearly everyone in Taiwan is covered by NHI, there are some exceptions. For example, if you come to Taiwan on a visitor or working holiday visa (or YMP), you aren't eligible to enroll in the National Health Insurance, and you are required to have your own health insurance coverage from your home country. International students become eligible for NHI after four months in Taiwan.
That being said, when I did not have NHI, I paid for medical services out of pocket when I needed them and found them to be very affordable even without insurance coverage - more on costs below.
Accessibility
Taipei is renowned for being one of the most convenient cities to live in, and access to health care is no exception. In such a dense city, it's quite easy to find a hospital, health clinic, dentist, or pharmacy that I can conveniently get to from my work or home.
For general, non-emergency needs, clinics are the place to go. Clinics are fast, cheap, and can provide the professional care needed for the most common cases. No appointment is necessary - simply take a number and wait your turn to see the doctor. In my experience, the wait time hasn't been that long (maybe up to thirty minutes at most), though it may vary at different times of the day.
How can I find a reputable clinic, or other medical service provider, near me? Typically, what I do when I have any kind of medical need - whether it's a dentist, a pharmacy, or a medical specialist - is do a quick Google maps search in my area and, since there are often many options, I look for the most highly-reviewed places. Google business listings include contact information, business hours, photos, and reviews. Personally, I always look at the photos and reviews and see what others have had to say about their experience before deciding where I would like to go. The Foresight HR team is also readily available to help our teachers with this! Colleagues and friends can also be great sources of recommendations.
As for making an appointment, large hospitals usually have an online booking system that is easy to use and is often available in English. You can browse doctors by department, view their availability, and make an appointment at a time that is convenient for you. Could it be any easier?
For other clinics like dental or optometry, because I'm not overly confident in speaking Chinese on the phone, I often check to see if they have a LINE account or a Facebook page so I can send a message to ask questions and inquire about making an appointment. I also always check if they take NHI, if it's not clear on their website (look for the green and blue NHI logo). Usually there is someone who can respond in English, or I can use my basic Chinese, supplemented with some translation help, to communicate. Again, if you're at all unsure, the Foresight HR team can help our teachers with this.
In my experience, I've almost always been able to make an appointment for the following week, if not sooner. Some clinics have even been able to see me on the same day.
What I especially appreciate is that I can make an appointment with a specialist (for example, a dermatologist) directly, saving valuable time. In Canada, I would need to first see my general family doctor, who would then refer me to a specialist, and it might be a long wait (possibly months) before I could get to see the specialist. In contrast, in Taiwan, I can choose a hospital near me, go onto the website, and browse doctors by department. I can see their specialities, where they studied, and even what languages they speak. After I've chosen the doctor I wish to see, I can then use the online booking system to make an appointment directly, without a referral, and see a specialist with minimal wait time.
On the flip side, while this system is very efficient for users, one con is that it is prone to abuse, overcrowding hospitals with patients seeking specialist services that a general doctor at a clinic could easily treat. This is something to be mindful of when considering what type of care you need to seek.
Cost
With NHI coverage, basic healthcare in Taiwan is very inexpensive. When I go to a walk-in clinic, I can expect to pay a copayment of around 100 NT to see the doctor and receive three days worth of prescription medications (more details on copayments here). Seeing a specialist at a hospital, though it costs more than seeing a general doctor at a clinic, is also quite inexpensive. I've discovered that even non-essential treatments that are not covered by NHI are quite cost-effective when compared to other countries with health care of the same high standard of quality. It's one of the reasons many overseas Taiwanese prefer to return to Taiwan for dental and medical treatment, and why Taiwan is a popular choice for medical tourism.
In my experience, the medical staff are transparent in communicating the costs before administering any services or treatment, so there aren't any big surprises when receiving the bill. If unclear, just ask.
No NHI? Relax.
During my first year in Taiwan, I was on a working holiday visa and didn't have NHI coverage. Because my health travel insurance from Canada only covered emergencies, I avoided seeing a doctor at all costs because I feared it would be cripplingly expensive.
However, in one instance, I was desperate and sought attention at a local walk-in clinic. If my memory is correct, I think I paid around 250NT for the consultation with the doctor and three days' prescription medication. I remember being shocked at how cheap it was (and well-worth it considering how unwell I had been feeling). In another instance, I accompanied someone who didn't have NHI to see a specialist (ENT) and it cost 500NT to see the doctor and get a week's worth of prescriptions.
That being said, if you're ineligible for NHI, it is still necessary to have some kind of emergency travel/health insurance, since accidents do happen and medical bills can add up quickly, depending on the situation and treatment required. It may not cost much to visit the doctor for a severe cold, but a bad traffic accident, an emergency surgery, or many days in a hospital would be a different story. Of course, these are things one hopes to never happen, but cannot predict!
Quality of Care
One of the concerns many people have with going to live in an unfamiliar country is the quality of health care available. What if something happens to me and I need to go to a hospital? Will it be safe? Sanitary? Will I be able to communicate with the doctors? Will they try to overcharge me because I'm a foreigner?
Taiwan's health care professionals are highly educated, many receiving an international education. In my experience, most doctors are able to speak English. Having been to several different hospitals and clinics, I would say Taiwan has a very high standard of health care, with clean, modern, well-equipped facilities. Overall, I feel that the quality of care that I receive in Taiwan is comparable to that which I would expect to receive back in Canada, only much more convenient and, in cases such a dental care, affordable.
I used to be terrified of going to hospitals, but now I feel quite comfortable and confident getting medical care and treatment in Taiwan, knowing that I will receive excellent quality care. Also, the billing system under NHI is consistent and transparent, so I don't need to worry about being unfairly overcharged.
Another aspect that I appreciate about Taiwan's healthcare system is its efficiency. Hospitals are certainly busy (perhaps people appreciate the cost and accessibility a little too much and take advantage of the system), but I've never had to wait long to receive care. Some may feel like they are just getting corralled through a revolving door, getting only a couple minutes of facetime with the doctor, but it does mean less wait time. As previously mentioned, in Canada, I might have to wait months to see a specialist or receive non-urgent treatment. In Taiwan, I can probably see a specialist next week.
For more information, I found this FAQ blog post to be helpful in providing an overview of Taiwan's healthcare system.
In Conclusion...
If you're worried about health care while abroad, Taiwan is a great place to be. Taiwan's healthcare system is accessible, efficient, cheap, and high quality. Especially while living in a foreign country, it gives me great peace of mind to know that whenever I need it, I can quickly and easily receive top-quality health care at an affordable price.