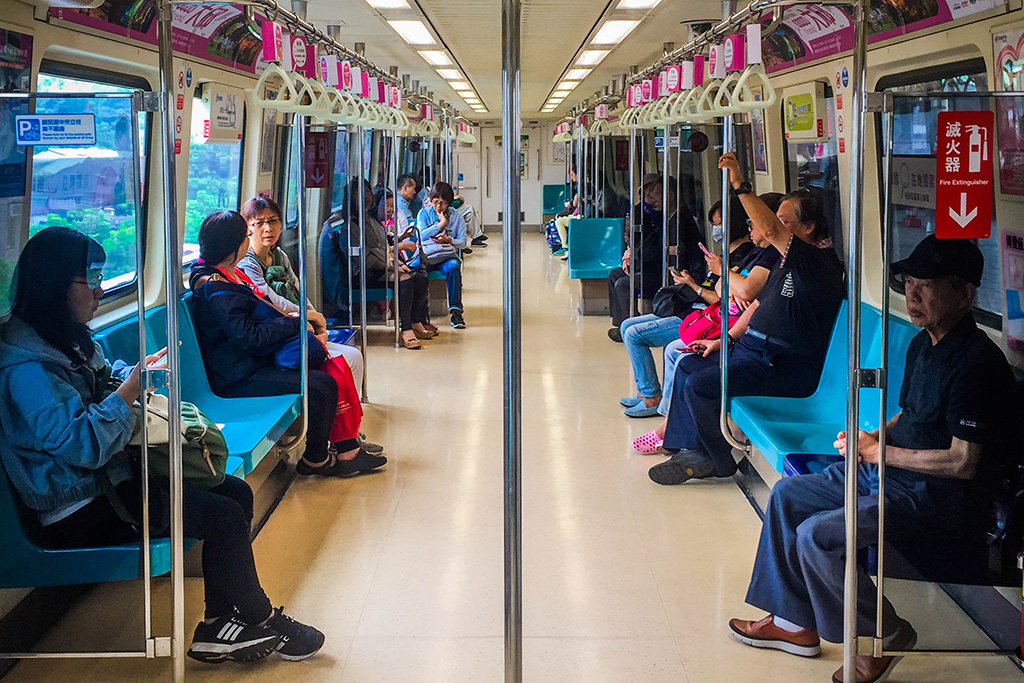 Editor's note: While there are many different train, bus, and air routes for destinations around Taiwan, this article focusses on public transportation within Taipei City.
This past June, I was given the opportunity to visit Taiwan with Foresight I.E.C. after winning their Free Flight to Taipei Contest. I was ecstatic to learn that I had won and was eager to ask FIEC many, many questions (which they were kind enough to answer and even Skype with me multiple times before going). Although I had learned about FIEC at my school's University Career Fair earlier this year, I had very little prior knowledge about Taiwan before going. That being said, once I arrived in Taiwan, I was immediately impressed by Taipei's extremely organized and well thought-out transportation system.
In this post, I want to focus on the subject of transportation because I know how overwhelming it can seem to go to a new country, especially if you don't speak the local language. Hopefully after reading this, it will ease some of your concerns.
Before going into the different types of transportation in Taipei, I first wanted to note that I found planning trips to be quite easy due to the fact that Google Maps is fully compatible and up to date in Taiwan. I simply input my destination and I would get multiple suggested routes in English. That's what I did during my entire trip, and it never failed me once.

Arriving At The Airport
I arrived at Taiwan at Taoyuan International Airport on an overcast Wednesday afternoon. After a nearly five hour flight from Toronto to Vancouver followed by a 12 hour flight to Taiwan, I was understandably tired from travelling and happy to experience a rather easy customs process. Within Taoyuan Airport, there are prepaid SIM card booths. At these booths, you can buy a SIM card for your phone so that you can text, call, and use data during your visit to Taiwan. I chose to get a SIM card with T-Star, which offered unlimited data for 6 days, as well as a Taiwanese phone number that would work for up to 6 months. You can choose from different providers, depending on your phone compatibility, price range, and length of stay. This only cost me 450NTD (~$19CAD or ~$14USD), which I was extremely surprised by, considering I paid over $100 CAD for a SIM card when I visited Japan last winter. After going through customs, I proceeded to baggage claim and then the arrivals gate, all of which were clearly labeled in Chinese and English.
Transportation to and from Taoyuan Airport is fairly easy, especially with the aid of Taoyuan's website, which provides information on driving and taking public transportation (bus, shuttle bus, taxi, MRT). Before leaving Canada I, had a look at this website in order to get a feel for the airport layout to make sure I wouldn't get lost.
For my visit, FIEC provided a private driver (they provide airport pick-up for all their new teachers); it only took 30 minutes from the arrivals gate to my hotel in Luzhou District in New Taipei City. If I would have had to make travel arrangements for myself, I would have most likely taken the MRT (The Taipei Mass Rapid Transit). From Taoyuan Airport, the Express MRT train goes directly to Taipei Main Station and only takes 35 minutes, costing 150NT (~$6CAD).
The Taipei Mass Rapid Transit (MRT)
Getting around Taipei and the nearby area was quite manageable due to the organized and easy to use MRT system. Every station that I used had the stations' names clearly labeled in English, as well as maps of the surrounding area, including major landmarks, such as schools, sightseeing attractions, and temples, in order for one to orient themselves within the area. This provided extra reassurance for me when I referenced Google Maps and compared it to the MRT station maps.
I also found that every station was extremely clean. I was told that this was partially due to eating and drinking not being allowed on the MRT, as well as cleaning staff working round the clock to keep both the stations and the trains spotless. I see this as a major plus. To me, it meant that I could use the MRT station bathrooms (they have both squat style toilets and western style toilets) and trust that they would be both accessible and clean.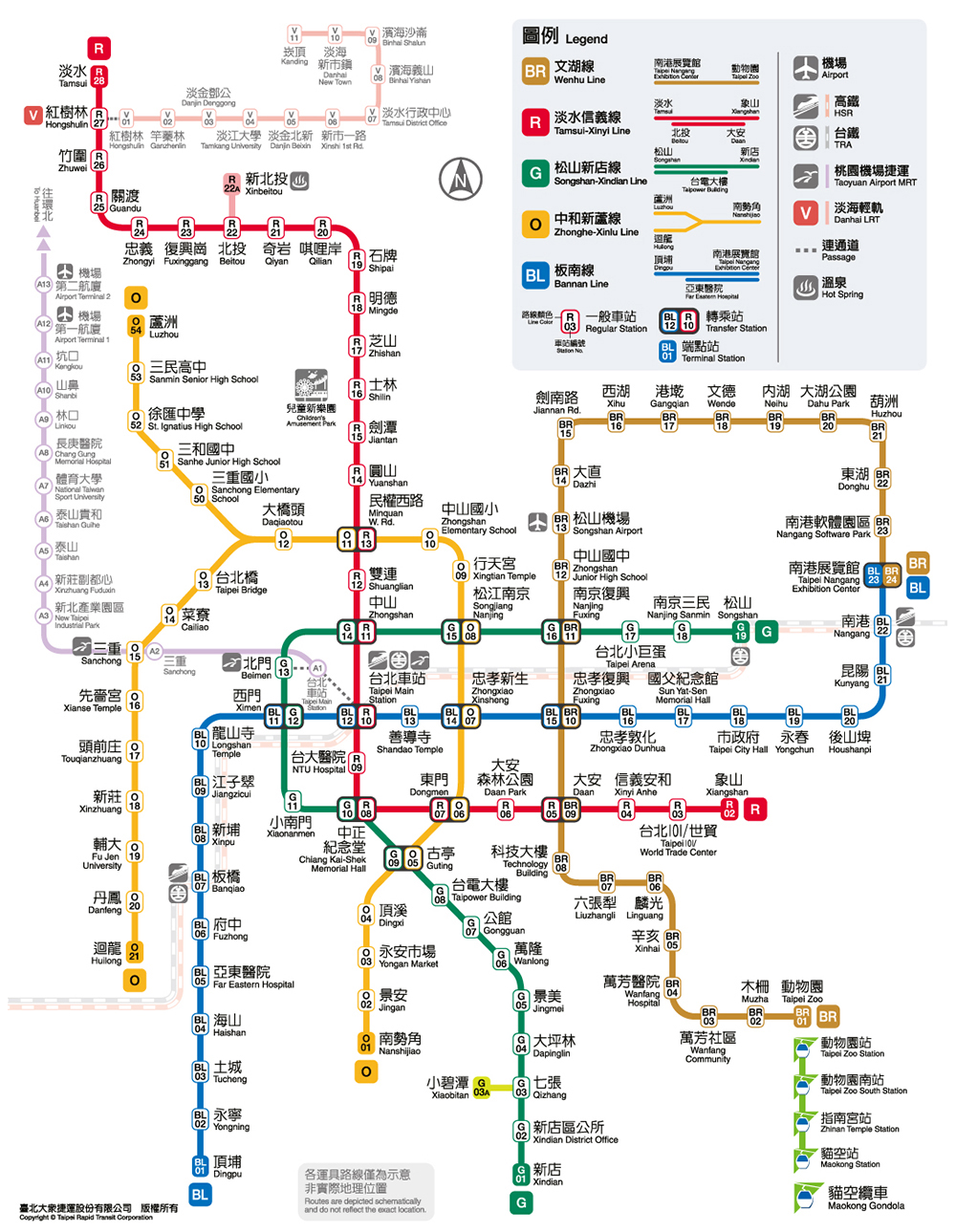 At track level, there are multiple systems put in place in order to make sure you aren't lost or confused. Firstly, on both sides of the track, there is signage with the subway line you are taking and all of the stops labeled in English. The full line will be displayed, but depending on which direction you are travelling, the opposite direction will appear noticeably faded (this made it easy for me to quickly decipher which direction the train would be travelling).
Secondly, at most stations I also noticed that there is a TV screen showing the next train that is arriving (indicated by the name of its final destination) and how in how many minutes. I never waited more than 3 minutes for any train and the predictions were always accurate. These screens made things quite clear, especially when it came to the MRT line I used most during my stay (the orange Zhonghe-Xinlu line, pictured above), which split into two seperate lines after Daqiaotou station. For example, when I was using this line, the TV screens would either state Luzhou or Huilong as the next train coming on that side of the platform, saving me from getting on the wrong train multiple times!
Thirdly, the subway trains themselves have digital screens on them stating their final destination. On the trains, they also have the subway map listed and a digital screen that shows (in English) the next station and which direction the train is headed. Station names are announced in Mandarin and English (as well as a couple other local languages). Pictured above, you can see that each station is also labeled with a letter for the colour of the subway line and numbers (for example Daqiaotou station is O12). This to me seemed like an added layer of accessibility and I had also seen something similar when I visited Japan. Lastly, above the subway doors there are two flashing lights that will indicate if the left or right side doors of the train will open at the next stop. Considering that at rush hour the trains are quite full (as in any country at rush hour), it helped me get in position to exit the train and not miss my stop.

EasyCard Payment System
Using the MRT was also affordable and simple as far as payment methods. You can use single-journey tokens but I found it much more convenient to purchase an EasyCard. EasyCards, which are also known as 'Yōuyóu kǎ,' can be purchased and reloaded at any MRT station. It took me only a matter of minutes to get my card and load it. It requires a deposit of 100NT (~$4 CAD or $3 USD), then you can load your desired amount onto the card for future use. I loaded 200NT and only ended up reloading it once more during my week long stay in Taiwan. When using EasyCard, I had to tap to enter the subway stations at the turn stiles and also tap to get out (prices are calculated based on distance travelled). I also saw EasyCards for sale at convenience stores (like 7-Eleven) and wished I had bought mine there, since they came in cute designs, such as Gudetama or Hello Kitty. Throughout the week, I also learned the many things you can do with your EasyCard, including purchasing items at convenience stores, renting a Youbike, taking the city bus or long distance bus, and getting into the Taipei Zoo.

Buses
While in Taipei, I had the opportunity to take the local city bus and a long distance bus to Jiufen. The local bus system I found quite easy. There are bus apps available, but I used Google Maps and had no trouble. When I put in my destination, it told me the bus stop and bus number I was looking for. I noticed that getting on the bus there is a sign that lights up, I learned that it informs you if you need to tap your EasyCard when you get on or off the bus (update: As of July 2019, on all buses you are required to tap both while getting on and off the bus).
Below I have put an example of how simple it is to use the bus in Taiwan with Google Maps. You can see the starting point, the bus number, the ending stop, and how frequently the buses come. At the bus stops I used, there was also a sign with the bus numbers that frequented that route, along with estimates for how long before the next bus would get there. A new system (that so far I have only seen in Chinese) is a TV screen on the bus that shows the stops the bus will stop at and how many minutes before you will reach that stop.
For the long distance bus, I took the 1062 bus from Zhongxiao Fuxing Station to Jiufen Old Street. I left from a bus stop in front of Exit 2 of the MRT station and got off at a stop directly across from Jiufen Old Street. The ride took a little over an hour and cost approximately 100NT.
Over all, both bus experiences were fairly simple and smooth. All buses were also air conditioned (which was necessary during the June heat) and I used my EasyCard for payment.
Bikes
While in Taiwan, I noticed a great abundance of not only scooters (as they were almost more prevalent than cars on the roadway) but also bicycles. One of the systems put in place is YouBike. Everywhere I went in Taipei, there were stations that allowed you to rent a bike (using your EasyCard) and ride around the city. The rates are affordable, costing 10NT per 30 minutes within the first 4 hours of use and you simply return the bike to any YouBike docking station when you're done. Taipei also seems to be a rather bicycle-friendly city, as I noticed that in a lot of areas, the sidewalk was divided into a walking side and a separate bicycle lane. I think this is especially important since some balance-lacking individuals like myself feel safer riding in a bicycle-specific lane, rather than on the road with the rest of the motor vehicles.
Overall, I felt very comfortable using public transportation in Taiwan, and found myself double-checking Google Maps less often than I had in other cities I have visited throughout Asia. I personally feel that Taiwan's public transportation system is very user/English friendly and look forward to using it in the future.
Gillian Wall is a recent teacher education graduate from Nipissing University in Ontario, Canada, and the winner of Foresight I.E.C.'s 2019 Free Trip to Taipei Contest. We are happy to be welcoming Gillian to join our team as a full-time ESL teacher in Taiwan for the 2019-2020 school year.